Getting to Hanford, and the B reactor

Hanford sits in the south eastern corner of Washington State, and is not close to anything else. This was part of the reason for its selection. Of course, the area has grown quite a bit, since the days of the Manhattan Project. The Tri-Cities area, as it is now called, contains several hundred thousand people, and is one of the major urban areas of the state. Still, to get there can be a chore. The local airport is just that - a local airport. It is served by local shuttles and air taxis; but you are unlikely to find a major airline serving here. Generally, the visitor who does not live in the area, will fly or take a train into Seattle or Spokane, and drive the rest of the way.
From Seattle it is about a three and a half hour drive, passing over the Cascade range, and then entering the arid lands in the rain shadow of the mountains. The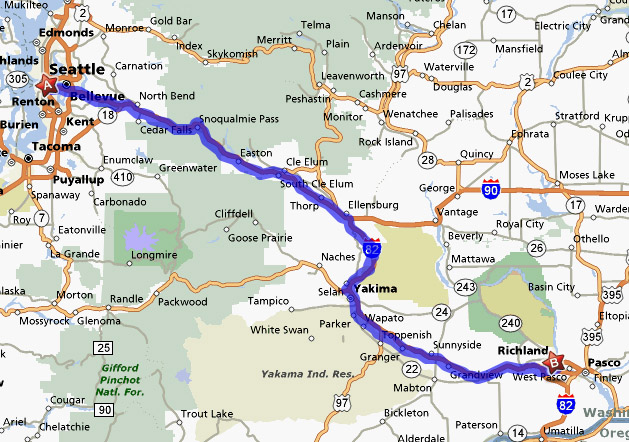 trip from Tacoma is about the same, at 233 miles, with a somewhat less interesting drive. There is bus service available to Pasco, though not directly to Richland. The drive from Seattle is interesting in the variety of terrain covered.
The coastal area seems a bit like paradise on earth, it is lush, and beautiful. There is rain and an abundance of flora and fauna. In the background are the mountains, and the sea. The nearby farmlands produce abundant food, as do the fisheries. The heavily forested areas once supported a booming lumber industry.
Much of this heavy forest is in the surrounding mountains. These, too, seem like paradise on Earth, and climb rapidly from the sea. having crossed the mountains, the traveler arrives at a comparatively arid series of valleys, carved onto a high and dry plain. In a sense it appears that the state of Washington is averaging the lush rain soaked coast, with the dry and less hospitable interior. So in Washington, everything would seem to even out, except for the topography, which is nowhere flat.
I saw no trees in eastern Washington, except for those planted and watered in the cities. The countryside was brown, arid, and pretty much a desert, complete with cacti. The treeless plain is known for the winds which can race across the land. Still, in its own way it is quite scenic, and open, and seems to echo the call of the
Old West. It was quite the contrast from Seattle. There is also quite the cultural contrast. Seattle is a part of the populous and left leaning coast, whereas the Tri-Cities area is politically conservative, even to the extent that the local football team is called The Bombers, in honor of the planes which have carried and continue to carry the ultimate product of the work done here. Their mascot/logo is a mushroom cloud. It is an area of ranchers, farmers, and cowboys. Crossing those mountains seems to take the traveler to another world.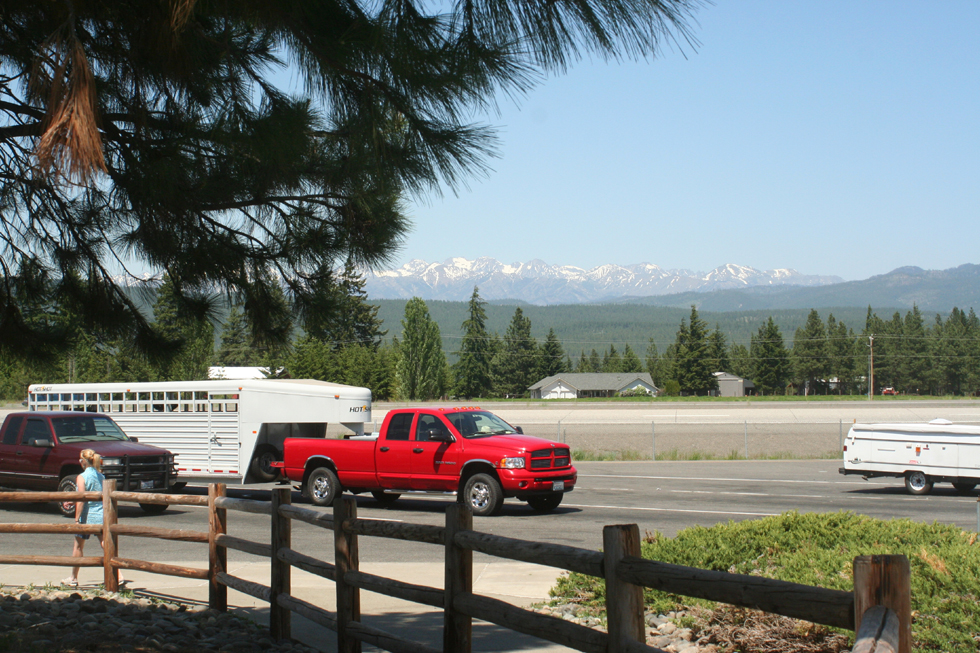 The Tri-Cities area, basically made up of Richland, Pasco, Kennewick, and related small communities, has an aggregate population of around 220,000, and is a center for high tech, rather than the little farming and ranching communities that you might expect. The whole area has a real nice feel to it, and the economy is booming. Part of this feeling may have come from the long drive out, which took me about four hours or so, and included a couple of stops. The journey permitted me to indulge in one of life's great experiences - the road trip. Short that it may have been, this was an authentic road trip, including far away places, desert, forest, and mountains. the rental car was filled with the usual road trip things - soft drinks, snacks, maps, and cameras. The cameras are handy to have, because once you cross the mountains, the terrain changes radically. The photo at the top is from just before entering the mountains from the Seattle side. The picture just above is from a rest stop, just after traversing the mountain passes. You can see the Cascades in the background, and the area is still fairly well forested; but it is already a far different cultural place than Seattle and the coast.


A twenty minute drive from the mountains takes the traveler to quite a different place. Desert and high plains, like something out of an old west movie. Gone are the trees of moments ago, to be replaced by the cacti and short scrub of a surprisingly expansive desert which trickles down Idaho into Utah and Nevada. Only a few small towns, the occasional road stop, and intermittent car traffic interrupt the traveler lost in thought, and admiration for the scenery. Upon arrival, I got to check into my hotel, right off the freeway and not far from downtown. Richland, Pasco, and Kennewick are great places, and my tours of Hanford were fascinating, and I enjoyed my visit there greatly; but there is a certain sameness about all of the places that we develop and civilize. There is nothing like a drive through a fairly desolate area, to make one feel individualistic, free, and able to do anything, and overcome all obstacles. It may be this factor that makes the classic road trip such an iconic and worthwhile experience. Life, they often say, is a journey - not a destination.